Updated 6-26-15: Gold prices are holding steady in a.m. trading on Friday as developments in the EU worsen between Greece and its creditors. Gold last reported a.m. is $1172.30 and silver is $15.84.
Gold is up slightly in a.m. trading Thursday from a previous 3 day sell-off. Gold last reported a.m. is $1174.60 and silver remains at $15.88. Both metals remain available below production costs and are perfect assets for a precious metals IRA as well.
Consumer spending rose a slight 0.9 percent in May after a revised 0.1 percent in April according to the Commerce Department. The department also reported that personal income rose by 0.5 percent which makes little difference for half of American households that gross less than $55,500 annually.
Despite increased consumer spending, June saw the weakest pace of economic growth since the middle of 2013 as the composite PMI fell to 54.6. The U.S. economy contracted at an annual rate of 0.2 percent in the first quarter of 2015 as industry remains on the sidelines and consumers have little to spend.
Greece default remains the topic of the week as neither Athens or EU creditors are willing to budge on demands and concessions. Angela Merkel, Greece's "best friend" admitted that talks are "going nowhere" as leaders arrive in Brussels for a summit. Merkel told reporters, "we still haven't made the necessary progress and in some places it looks like we are going backwards.
Greek Prime Minister Tsipras contends EU creditors have not been sincere in their efforts to assist Greece as he openly criticized them for rejecting the latest reform proposals. Greece will default at the end of June if it doesn't receive emergency funding and Tsipras knows he'll have to break promises made to voters sooner than later if Greece is to receive additional funding.
We expect a last minute deal as EU financiers work to soften the blow of a "Grexit" possibly coming in the not too distant future. The graph below shows the vicious cycle Greece finds itself in as its consumer driven economy implodes.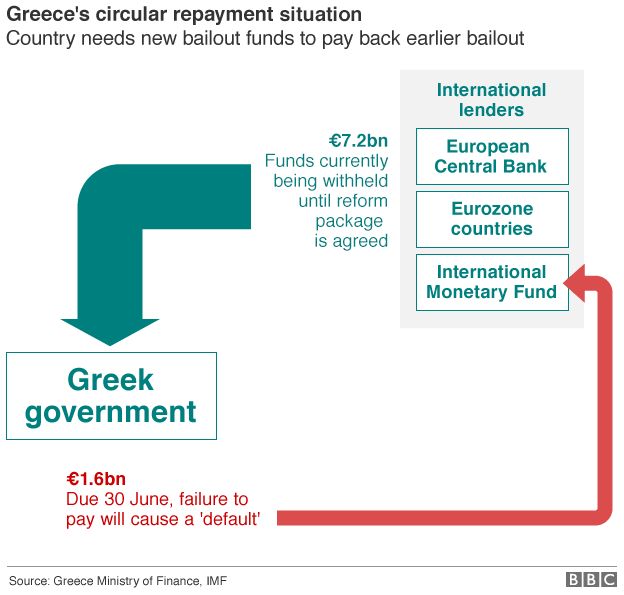 Does it ever make sense that any individual, corporation or nation can exist on perpetual debt? Of course not but unfortunately all nations including the U.S. think so. Under normal circumstances, one's ability to borrow money is always based on that debtors credibility to repay the debt. Greece has lost all fiscal credibility but the EU fears the unknown worse than losing more money to Greece in the short term.
There's a reason central banks and governments trust gold, it's insurance against paper asset losses. They are coming and debt has guaranteed their arrival.
There's no better way to protect wealth than investing in precious metals like gold and silver. Both metals are also available for a gold IRA. Give us a call to begin the process at 1-800-577-3195
Gold Goliath is not your typical gold dealer.